This is a Sponsored post written by me on behalf of
White Cloud
for
SocialSpark
. All opinions are 100% mine.
Can you feel the excitement in the air? The store shelves are being stocked with all the latest and greatest school supplies. Protractors, pencils and push pins, oh my! I have always loved going through the rows and rows of fresh new folders, pens and other supplies. School supplies make me happy. That's why the line in
You've Got Mail
, "I'd send you a bouquet of newly-sharpened pencils, if I knew your name and address," resonated with me. Back to school shopping is upon us!
For some moms, the words "back to school" strike terror in their hearts. Because when they are staring down at a school supply list that resembles the lists we associate with Santa Claus, back to school shopping can be a daunting and extremely expensive endeavor.
Oh, there are some of you who have been collecting supplies all summer long, pacing yourselves. But, most of us, do it all in one fell swoop...which can set us back hundreds of dollars. Between the actual supplies like pencils and paper to the clothes and computers, back to school shopping can be quite the financial burden on families. The National Retail Federation estimates that the average family spent around $700 on back-to-school costs last year. That's pricey, people!
Even though we homeschool, we still do a lot of shopping for the books and supplies we need to start our newest school year off right. Sometimes just some new pencils or folders will motivate us to be more diligent or organized. We may not need a certain Trapper Keeper or scientific calculator to satisfy the lists, but we do need the basics...pencils, paper, art supplies and facial tissue. Lots and lots of facial tissue.
We're coming off a series of summer colds and believe me, we could have used the multi-packs of facial tissue to combat the sneezing and runny noses. I plan on being prepared this school year with plenty of tissues all over the house, since we school in pretty much every room...kitchen, living room, family room, school room...all over. Do you see the stack of books on the sofa? No more running out of tissue and having to use harsh paper towels or toilet paper that disintegrates.
White Cloud Facial Tissues, available only at Wal-Mart, are not only affordable, but they are so soft and soothing. Be sure to check out the
White Cloud Facial Tissue page
to print off one of their $0.75 coupons before you head out to Wal-Mart to purchase your school supplies.
With lots of designs to choose from, you can help support Children's Miracle Network Hospitals by purchasing some of the limited edition White Cloud multi-packs of tissues, designed by kids at the CMNH. To see if White Cloud is sold in your local area Wal-Mart stores, check out the
White Cloud Store Locator
.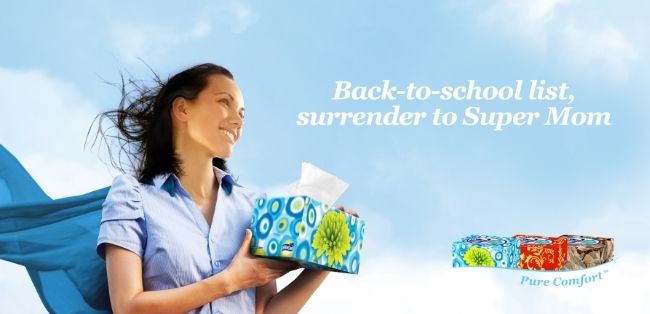 So, as you face those seemingly endless back-to-school supply lists, know that you are in good company. Back to school shopping doesn't have to be scary for a Super Mom like you! Think of all the things you accomplish in a day. You can make lunches faster than a speeding bullet and you can help build popsicle stick bridges more powerful than a locomotive. You'll be getting back-to-school shopping done in a single bound. White Cloud wants to help. Here's where you can find them ~
White Cloud Facebook Page
White Cloud Twitter Page
White Cloud Pinterest Page
What's your biggest back-to-school challenge? I'd love to know how you tackle it!