Happy Wednesday, Peeps! Have you had a good week? I have to say, ours has started off much better than last week. I give God all the glory on that one! He has been so gracious to me this week. It just makes me want to celebrate...I hope you are ready for a fun party...'cuz it's time for the 23rd Creative Ways Link Party!
Before you show us all the awesomeness you've been working on, I just want to mention something about this party. (No scolding, just a friendly reminder.) I hope you find it to be not only a place to showcase your work, but also to encourage other bloggers in their creativity. We've had some good weeks with a lot of click throughs, and then we've had some weeks where not many links get visited. I know we all like a little encouragement, a pat on the back, a virtual warm hug every now and then. Let's do that for each other this week, okay? Find at least 2 link ups that you can visit, and leave a kind word if you feel led to do so. I guarantee you'll make someone's day a little brighter. Okay, now.... here were some of the posts that caught my eye as I was scrolling through all the great links from last week:
If you missed these wonderful posts, be sure to click through their links to check them out! What have you been working on this week? I can't wait to see!
Please link up to 3 of your family-friendly DIY Projects, Crafts or Recipes...your Creative Ways
Please link to a specific post on your blog, not just your home page.
Please do not link up Etsy shops or giveaways
Please follow Posed Perfection by clicking on one of my pretty, colorful buttons on the sidebar, and let me know so I can follow you back.
I'd love for you to add the party button to your post, a visible link back on your post, or a link on a party page. We want your creative friends to join us too!
Be sure to visit at least 2 links and leave some comment love.
By linking up to this party, your are giving authorization for your projects/recipes to be featured with a photo and a link back to your blog.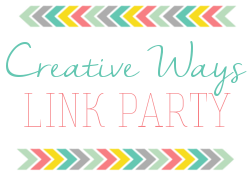 <a href="www.posedperfection.com" target="_blank"><img src="http://i1212.photobucket.com/albums/cc454/pianoprincessdesigns/creativewaysbutton_zps0fd67676.png~original" alt="Posed Perfection" width="250" height="177" /></a>