Yay! It's my favorite day of the week! It's time for the Creative Ways Link Party, where you get to show off what you've been working on lately. And, we get to be inspired by all things creative. It's a win-win for everyone!
Well, I'm officially in week 3 of Whole30 and doing remarkably well. I haven't "cheated" or fallen off the strict Paleo wagon with food. I should probably get 50 lashes with a wet noodle for weighing myself frequently (a big no-no on the plan) because it has done nothing but be discouraging each time I've set foot on it. Though the needle on the scale is hardly moving, I have had some non-scale triumphs. For one, my blood pressure, which is usually in the mid to high range of normal has significantly dropped. Another triumph took place in a Mexican food restaurant. The ladies in our small group went out to dinner, and I was able to go the entire dinner without eating the chips and salsa that were no further than an arm's reach from me... and I didn't feel deprived. Besides not indulging in my daughter's birthday cake the first week of the challenge, this was a big thing! It is really quite empowering to stand firm, having the self-control to make healthy choices.
In the week since the last party, I shared one of my favorite new Whole30 and family-friendly recipes seen below (It's not the brownies).
In case you missed them the first time...
If you missed these wonderful posts, be sure to click through their links to check them out!
To see some of the past features, check out my Creative Ways Link Party Features Board on Pinterest. I'm hoping that will bring your posts even more exposure! I hope you'll follow along!
Please link up to 3 of your family-friendly DIY Projects, Crafts or Recipes...your Creative Ways
Please link to a specific post on your blog, not just your home page.
Please do not link up Etsy shops or giveaways.
Please follow Posed Perfection by clicking on one of my pretty, colorful buttons on the sidebar, and let me know so I can follow you back.
I'd love for you to add the party button to your post, a visible link back on your post, or a link on a party page. We want your creative friends to join us too!
Be sure to visit at least 2 links and leave some comment love.
By linking up to this party, your are giving authorization for your projects/recipes to be featured with a photo and a link back to your blog.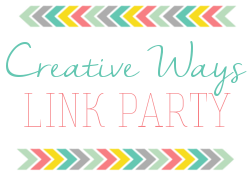 <a href="www.posedperfection.com" target="_blank"><img src="http://i1212.photobucket.com/albums/cc454/pianoprincessdesigns/creativewaysbutton_zps0fd67676.png~original" alt="Posed Perfection" width="250" height="177" /></a>